Microfiltration is primary used for separation of solid particles which are in suspension or a colloidal form from a solution.
Microfiltration (MF) membranes are used in a broad range of applications in the biotech, bio-pharma, API, food & chemical industries for versatile of applications.
The combination of proper hardware design, along with sophisticated controls, allow for 20-hour product runs and minimal downtime.
We offer MF in ceramic tubular construction as well as in flat sheet (TFF) & Hollow fiber construction. Based on the applications, we select the correct membrane & design a customized system for you.

For classical biotech industries we offer mainly ceramic membranes which have unique advantages listed below.

Excellent resistant to most of the solvents
Can withstand extreme pH (0-14) & temp
High thermal stability - Steam sterlisable
Extremely long life compare to polymeric membranes

Typical applications of MF Includes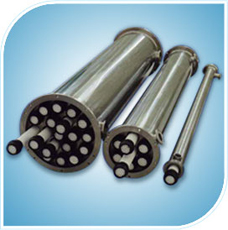 Cell harvesting & clarification for fermentation based products.
Case-in purification & defatting of WPC
Deashing of starch
Preparation of parenterals and sterile water for pharmaceutical industry.
Clarification of fruit & vegetable juices.
Condensate water recycling